These Valentines mocktails are great for any special occasion but are especially special for a Valentine's Day celebration. Serving delicious mocktails is the perfect way to share your love with your whole family.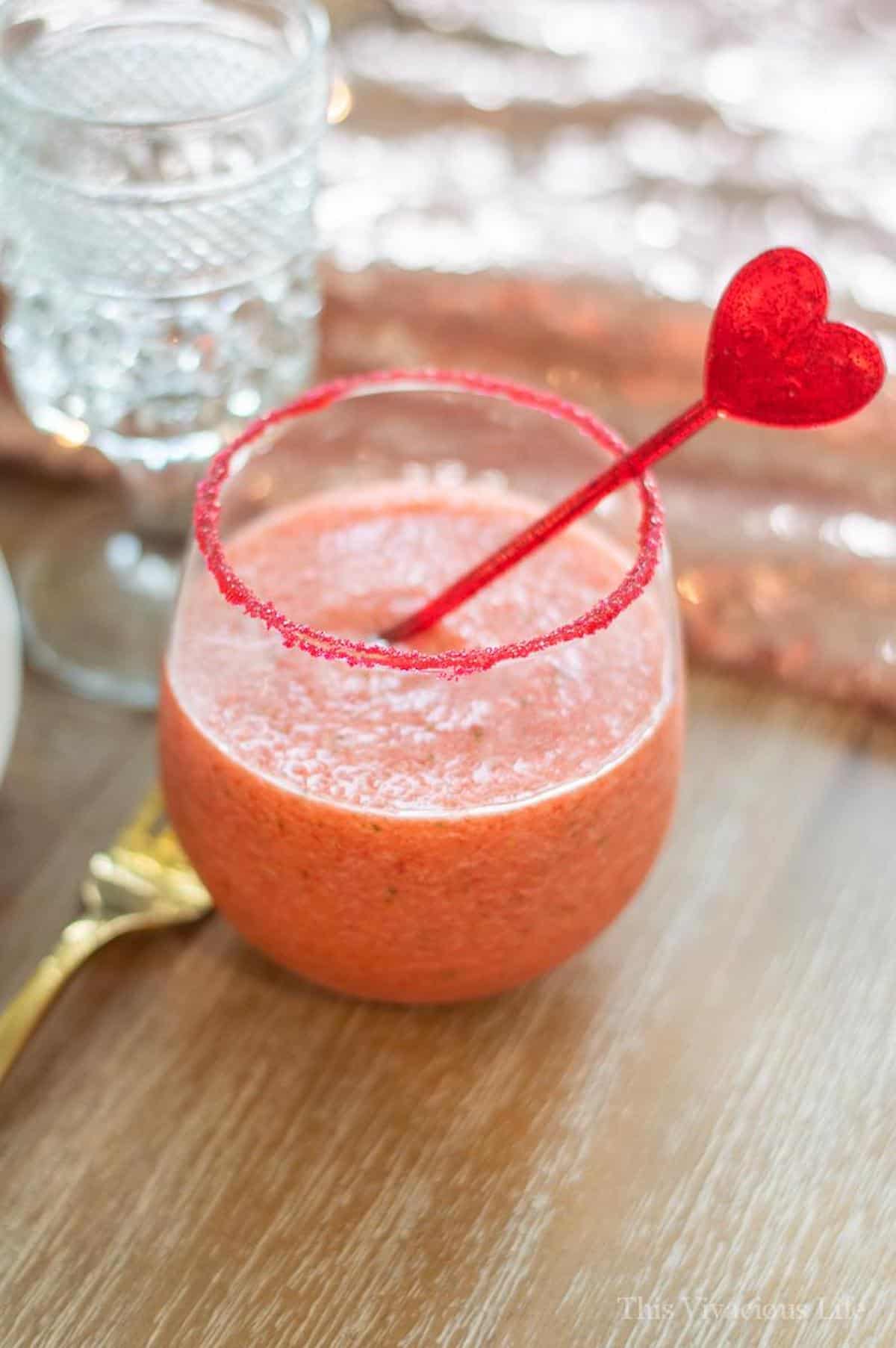 Holidays are my favorite because it gives us an excuse to make themed treats. Growing up, my mom and I always made holiday goodies for whatever holiday we were celebrating.
It didn't take much for us to come up with an excuse to make some sort of treat. A lot of my holiday memories involve me baking with my mom, and now I continue that tradition with my kids.
We bake these incredibly tasty gluten-free Thanksgiving treats, Christmas reindeer check mix, and so many cookies. These Valentine's cookie gifts are great to give to someone you love.
Our other drinks, homemade root beer, Halloween mocktails, layered 4th of July mocktail, cranberry mocktail and best Thanksgiving punch are all great non-alcoholic sips that everyone will love. And this non alcoholic champagne is perfect for any celebration!
Some may say the perfect drink doesn't exist, but they are wrong. This strawberry beverage is one of my favorite drinks to make because it is so easy. Plus, it is great for special events.
You can serve it as great DIY Valentines treats for school at a Valentine's Day party, for a romantic dinner, for a Valentine's Day (or Galentines theme party) dinner with friends and family, or just for fun.
Everyone will love this refreshing drink and it goes great with our Valentines cake pops recipe or our fun Valentines breakfast ideas kids will love. Make it extra fun with Valentines day chocolate dipped fruit gifts or our homemade Valentines charcuterie board as a gift.
Why should I try this recipe?
It is a fun way to celebrate February 14th.
You won't find an easier recipe for a non-alcoholic drink.
Festive mocktails are fun to make.
It makes a dreamy drink for the day of love.
Ingredients needed
Strawberries or raspberries - You can use fresh strawberries (with the stems removed) or fresh raspberries for this easy mocktail recipe. You can use both if you desire.
Frozen limeade - Frozen limeade helps balance out the flavor of the fruit, making a tasty Valentine mocktail.
Fresh basil - We recommend using fresh basil, but you can use mint leaves or rosemary if you prefer.
Salt - Adding salt into a drink helps enhance the sweet flavor of this tasty beverage.
Ice - Ice gives this sweet drink its fun texture. With a little bit of ice, this mocktail has a bit of a slushy texture.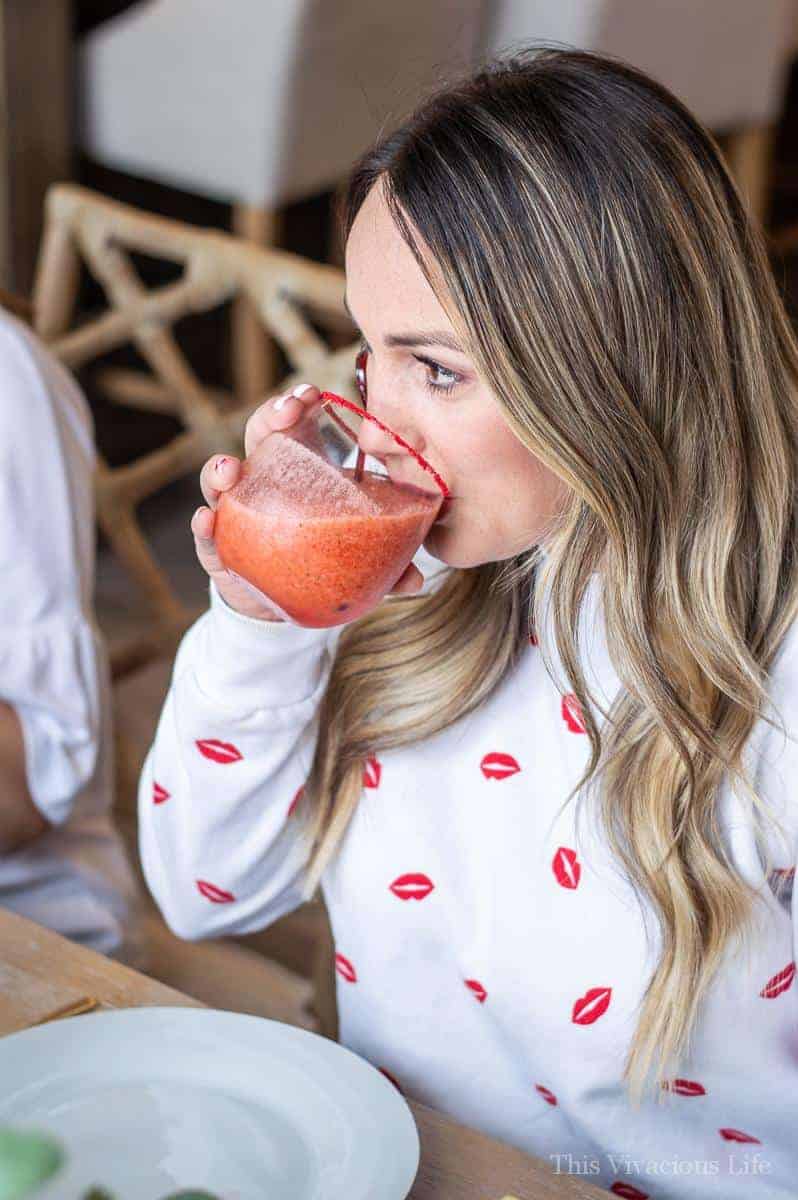 How to make Valentines mocktails
Mix it all together
This delicious drink recipe may be one of the easiest recipes out there. It is so easy that is only has one step.
Place everything in the blender and blend it. Then mix until the drink is a gorgeous red color.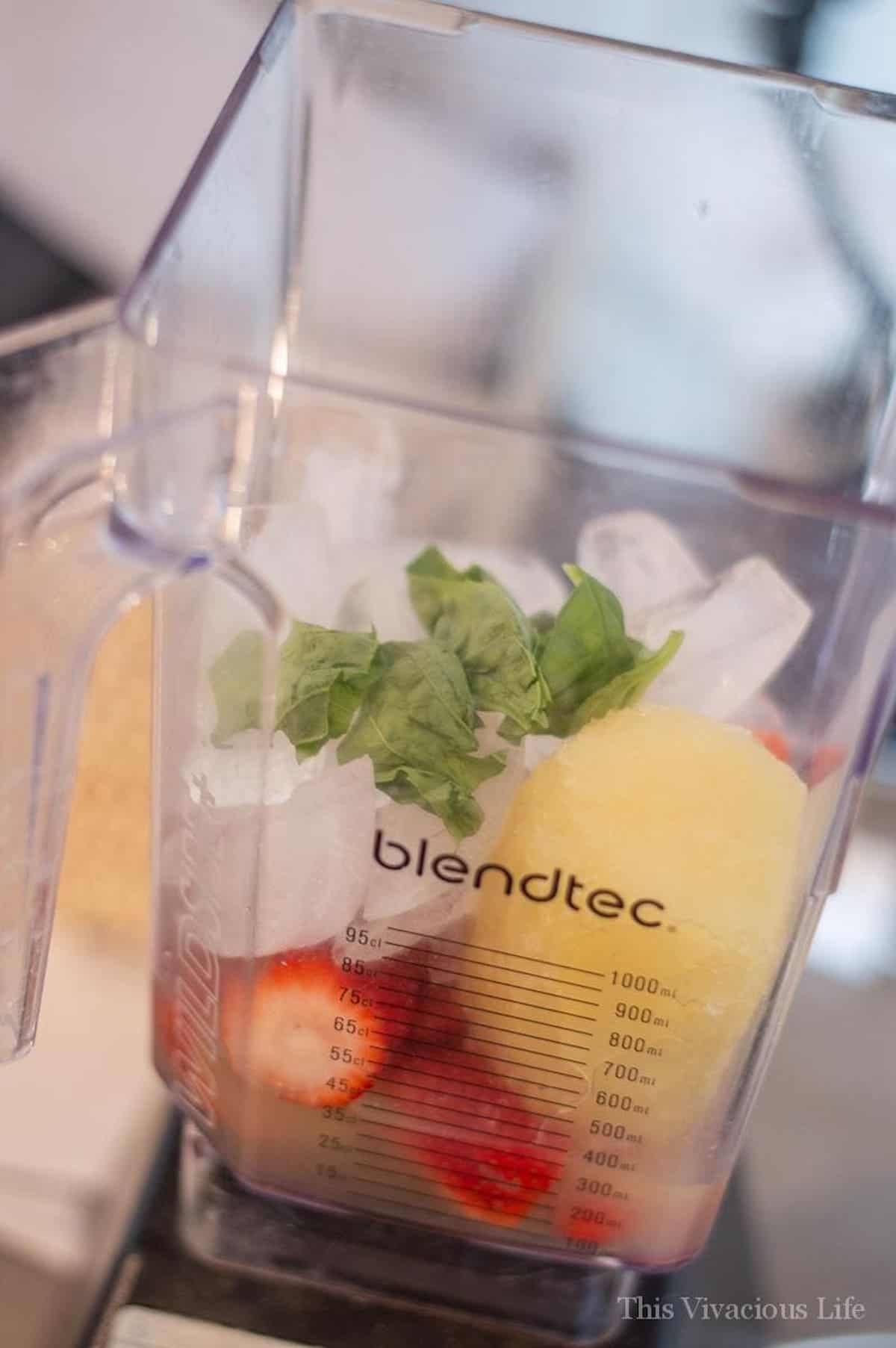 Tips for success
Serve at baby showers - This is totally random, but this delicious drink would be perfect at a baby shower. The mom-to-be can't drink, so why not help her feel included at her own party and serve a mocktail?
Use a pretty glass - I love serving my favorite mocktails in a fun glass because it makes it feel like a fancy drink. You could serve these festive mocktails in margarita glasses, champagne glasses, or stemless wine glasses.
Storage and Freezing
Storing - We wouldn't recommend storing this drink in the fridge because the ice will melt, and it will alter the flavor. These Valentine's Day mocktails are best served fresh.
Freezing - You can freeze this in ice cube trays and pop them out as you want to enjoy. You can even add frozen cubes to a glass and top with club soda.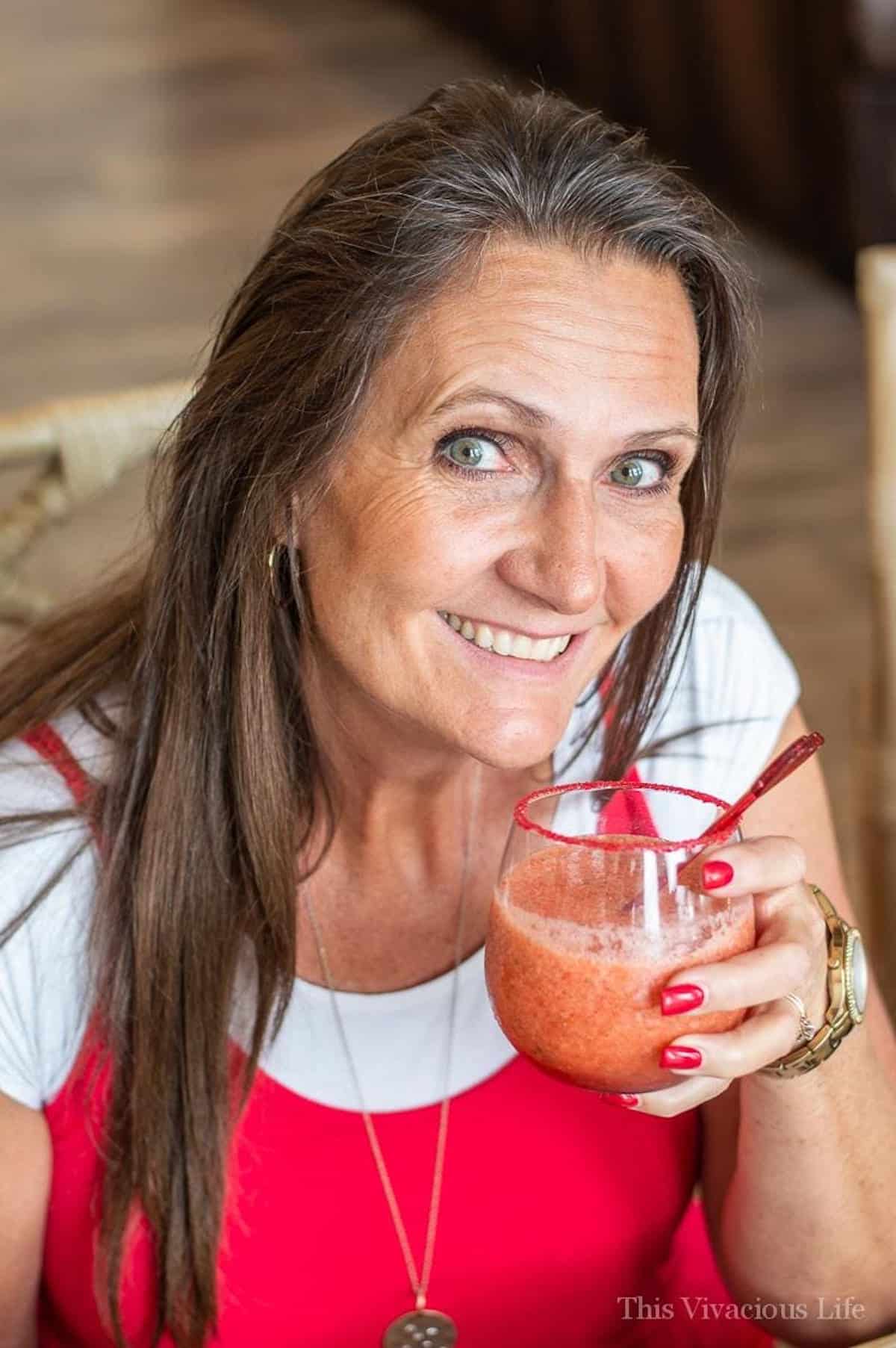 FAQ
What is a virgin drink?
A virgin drink is a drink that does not contain any alcohol. These drinks are wonderful options for those who decide not to drink, whatever their personal reason may be.
Virgin drinks, also known as mocktails, are becoming more popular in bars because they are tasty and provide an option if someone does not want to drink. These drinks are also called soft cocktails and virgin cocktails.
How do you order a virgin drink at a bar?
Because mocktails are becoming more popular, they are easier than ever to order. Go talk to a bartender and ask if they have any mocktail options.
Pretty much any alcoholic drink can be made non-alcoholic with a few adjustments. Talk to the bartender, tell them you do not want any alcohol, and they can make a non-alcoholic version of any beverage you want.
Ways to enjoy
This recipe would pair great with this Valentines Charcuterie board. Cocktails and other mixed drinks are typically served with charcuterie boards, so having a Valentine's drink with a Valentines charcuterie board is meant to be.
Can't have a charcuterie board because you are gluten-free? Have no fear, because we have a gluten-free charcuterie board for you. We also have a vegan option and an easy charcuterie board if you are overwhelmed by them.
These easy red velvet cake mix cookies are perfect for Valentine's Day because of their pretty red coloring. You can serve them, and this Valentines mocktail, at a Galentine's Mom & Me party. So fun!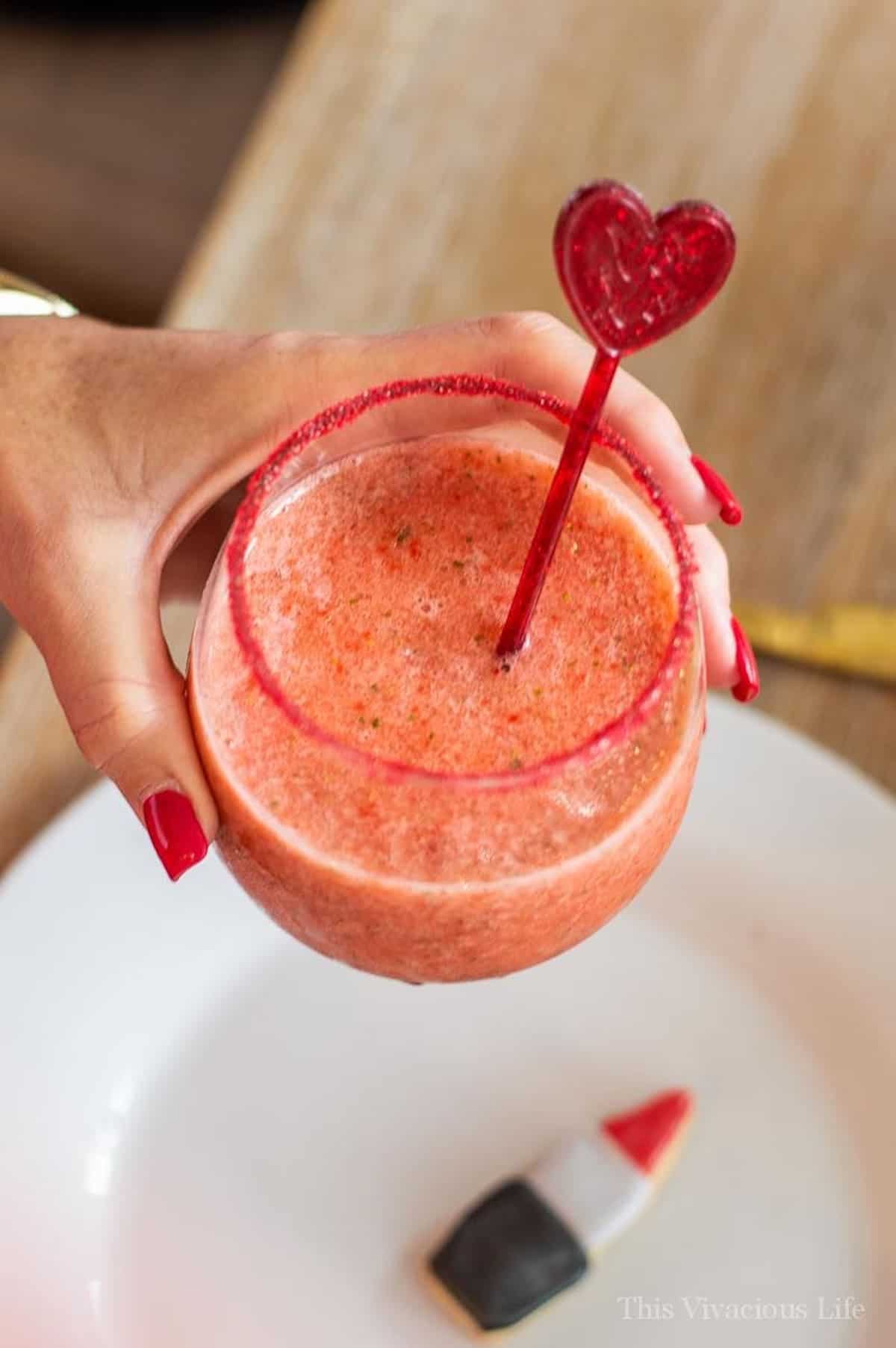 Valentines Mocktails
These Valentines mocktails are great for any special occasion but are especially special for a Valentine's Day celebration. Serving delicious mocktails is the perfect way to share your love with your whole family.
Ingredients
1/2

pint

strawberries stems removed or raspberries

12

oz

canister of frozen limeade

handful of fresh basil

dash of salt

1

cup

ice
Instructions
Simply place everything into the blender and blend well…that's it!
Notes
Feel free to try another herb if you'd like in place of the basil. Mint and rosemary also work great just keep the amount you add to just a bit.
Nutrition
Serving:
1
glass
Calories:
63
kcal
Carbohydrates:
16
g
Protein:
1
g
Fat:
1
g
Saturated Fat:
1
g
Sodium:
6
mg
Potassium:
90
mg
Fiber:
1
g
Sugar:
14
g
Vitamin C:
37
mg
Calcium:
9
mg
Iron:
1
mg